A Supervisory Control and Data Acquisition (SCADA) system is the proven first step toward greater reliability and situational awareness of an electrical network – big or small. It also provides a firm foundation from which both basic and complex applications can grow to enable more efficient grid operation and faster recovery from problems. In short, time spend improving and maintaining your SCADA system pays dividends every day.
Substation and Control Center Computers That Support Situational Awareness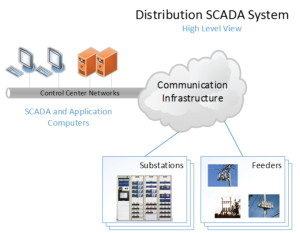 SCADA provides similar capabilities and benefits to many different industries and although the primary architecture remains the same, each type requires somewhat unique elements to realize timely monitoring and control. The figure here illustrates a high level view of an electric power distribution SCADA system consisting of three primary components:
Control center computers, servers, and peripherals to facilitate operations and hosting of system-wide applications
Field devices, in this case at substations and remote feeder locations, to monitor the current state of the power grid and turn commands from the operator into actions, e.g. breaker trip/close, voltage measurements, etc.
Communications infrastructure that ties the system together and extends the reach of the operators and field personnel throughout the service territory
Important aspects in the selection of a SCADA system include correct sizing of the components, planning for the ongoing "care and feeding" of the system, and balancing the need for fast and easy access against the need for secure and reliable control. Today's vendors provide many options for sizing and expandability. However this needs to be carefully weighed against cost and the tendency to over build. One must also recognize the necessity to plan for inevitable changes, upgrades, and troubleshooting which affects feature selection but also people and process requirements. Security essentials, both cyber and physical, can be viewed as cumbersome at times, but also as an opportunity to utilize modern tools to mitigate potential threats.
Foundation for basic and complex applications
Electric utility SCADA systems deliver a foundation for the development of basic and complex applications that can vastly improve the operation and maintenance of the grid. Many of these applications come as standard "out of the box" capabilities but a number require significant integration and configuration work to realize the benefits. Some examples of ways to build on SCADA:
Basic
Automatically retrieve fault location data from protective relays and display on the operator screen or geographic information system (GIS)
Store switching actions in a data historian for later training playback or post-mortem analysis
Monitor auxiliary points such as entry doors, telecom equipment, and site temperatures in addition to the usual primary electrical equipment
Complex
Integrate breaker, switch, and recloser status as well as analog measurements with an Outage Management System (OMS)
Run applications on the SCADA data such as voltage regulation/reduction, load estimation/forecast, and switch order management
Robust communication infrastructure is crucial
Those new to SCADA or vendors interested only in selling product will occasionally overlook the significance of the communications infrastructure in the overall performance of the larger system. Ultrafast servers with beautiful operator displays and cutting edge applications can be rendered completely ineffective if the data from the power grid is absent or unreliable. Careful attention must be paid to this portion of the SCADA system especially since communications components oftentimes have lower rated mean time between failures (MTBF) than the primary and secondary equipment being monitored.
Current state of the art electric power communication networks use utility-hardened equipment certified to IEEE 1613, IEC 61850-3, and numerous Electromagnetic Compatibility (EMC) and environmental standards. Architectures leverage the Internet Protocol (IP) standards to build out networks capable of handling multiple data channels, establishing links with many types of devices, and transporting both current and legacy SCADA data protocols.
How can P&D deliver your desired outcomes?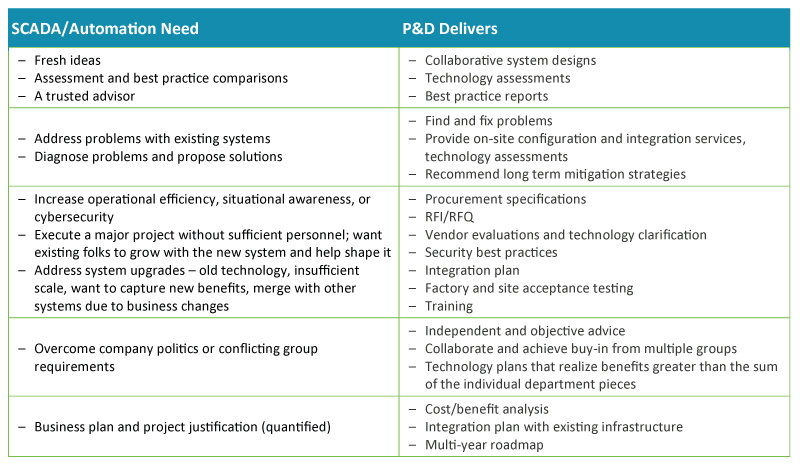 For more information, or to see how P&D can help you with your SCADA implementation, automation, or communication needs, please contact us.