Together We Rise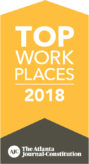 Patterson & Dewar Engineers, Inc. (P&D) is 100% employee-owned, and as such, we believe our people are our most important asset. We offer competitive compensation, a comprehensive benefits package, and the opportunity to learn, grow and contribute to a vibrant culture that stands the test of time.
At P&D, we foster a collaborative culture where managers and staff routinely work side-by-side in the office and in the field. This model allows us to share knowledge and experience blended with new ideas and fresh perspectives to strengthen the team and enrich the customer experience. We support continuous professional and personal development with training and mentoring, and encourage employees to find opportunities to apply and extend their talents.
"Each day is a new experience. You, as the individual, have the opportunity to direct your own success. Each person has the opportunity to share ideas on the growth of the company, and to improve work processes and practices. It's like owning your own business without a lot of the headaches that come from owing your own business."
What Makes Us Unique?
Incorporated in 1947, the firm has a distinctive legacy of excellence, integrity, and exceptional customer service. While we are rooted in this tradition, we remain intentional in our efforts to maintain a fresh perspective, and promote a sustainable business model by investing in our people.
We are a niche firm, specializing in electrical and civil engineering, construction management, and associated support services to electrical utilities, transportation authorities, developers and corporations throughout the United States. Our subsidiary, Hood Patterson & Dewar, offers electrical and mechanical testing and commissioning services to data centers and mission critical facilities across the country and around the world. We strive to be the best at what we do in order to provide superior service to our customers, frequently resulting in referrals and repeat business.
"It is exciting, challenging and satisfying to be involved with various high-profile customers, state-of-the-art technologies and fast-growing new industries. The scope of activities, the amount of learning and the constant training continually advance my knowledge and confidence in the field of engineering."
Are You a Fit
What truly distinguishes P&D from other firms is our team – a cast of characters united by a common vision. At P&D, your ideas, experiences and entrepreneurial spirit are recognized and appreciated.
"P&D provides a laid back atmosphere filled with professionals. Each person is committed to making the team succeed while not taking each other too seriously."
We look for team players who are eager to learn, grow and excel. You should be accountable, self-directed, professional, and open to the possibilities that exist for you at P&D. Our firm was built by cultivating long-term relationships based on exemplary service and integrity. Candidates should be like-minded in that regard, willing to go the extra mile to exceed customer expectations.
Benefits
Profit sharing
401(k) plan
Paid time off and holidays
Flex hours
Medical, dental, and vision insurance coverage
Life insurance and AD&D coverage
Supplemental life insurance
Long-term disability insurance
Flexible spending accounts
P&D is an equal opportunity employer. All qualified applicants will receive consideration for employment without regard to age, race, creed, color, religion, sex, national origin, ancestry, marital status or sexual orientation, gender identity or expression, or protected veteran status and will not be discriminated against on the basis of disability.