In the Beginning
1973 was an extraordinary time in my life; my family and I moved to Atlanta and started our new adventure. A big part of that adventure was starting work at Patterson & Dewar Engineers, Inc., which turned out to be one of the most satisfying experiences in my life.
In high school, I always wanted to be an electrical engineer. A neighbor who was an engineer and another friend who was a ham radio operator with an engineering background influenced me heavily. From those two men, the desires of my heart were set, and I was not going to be moved. Even in college, I loved structural designs and was encouraged by a civil engineering professor to change my major. No way! Electrical engineering was my calling.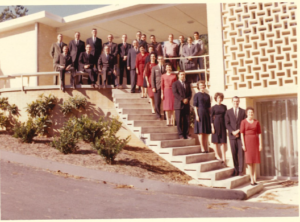 I was interviewed by Mr. Howard Patterson, founder, and Mr. Ed Harris, electrical department head. My resume was not great, but they must have seen something special in me that fit P&D's needs. Working at the Kennedy Space Center (KSC) in Florida on the electrical system of the Launch Umbilical Tower for the Skylab Project probably didn't hurt. My final interview was with Norman Delong, then Vice President. Seeing all the PE certificates from seven states on his wall was impressive. I thought to myself, "I can do that." I was excited but had no idea what I would do while working in power distribution and planning. In college, I had three classes dealing with power, which primarily dealt with electronics, transistors, amplifiers, and power supplies. While I knew P&D would stretch me, I accepted the job offer and started work in September 1973.
I did not even have a desk or office when I joined the company. The P&D office was in Mr. Dewar's old building off Scott Blvd, close to the intersection of North Decatur Road. P&D planned to move to a new office on Milscott Drive when it was completed in 1974. In the interim, I moved from office to office using other engineers' desks when they were out of town. It was a hectic time, but it was great learning and developing new relationships. Norman DeLong conducted most of the training sessions in our small meeting room where he conveyed as much knowledge and experience as possible to develop us new engineers, mainly myself and my colleague Bob Mashburn. More opportunities became available for me to work, learn, and practice engineering after moving into our new building. I began to work on obtaining my EIT and P.E. licenses. Encouragement from the office was great as the entire team worked to help me.
Mentors Galore
Mr. Patterson, Ed Harris, and Norman DeLong knew the job's requirements and were ready, willing, and able to guide me towards a successful career. Other key players were Mr. Harry Dewar, Tom Cresswell, and Harry Butler, who were all excellent engineers with a lot of practical experience and knowledge. They were always willing to help me. I will never forget Tom Cresswell's enthusiasm in the office and his challenge, "Go Get 'Em Tiger!"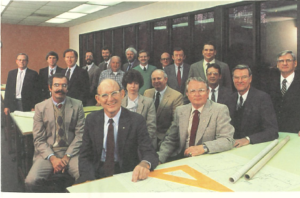 I took trips with my mentors where we talked about clients, their likes and dislikes, the uniqueness of each organization's structure, and their weaknesses. How interesting it was looking at and talking about electric distribution and transmission lines. While this was not structured training, it was incredibly valuable. There was so much to learn before I became a client engineer, and time was of the essence as Mr. Patterson and Mr. Dewar were getting ready to retire.
My first client was from central-southern Kentucky, also Mr. Dewar's client. I accompanied him several times to meet these folks and begin my relationship. Each of us has unique ways of doing things in this business. For example, while Mr. Dewar was not the most organized person, he knew how to find information in his records. He used a yellow notepad and wrote down everything he covered during client visits. Afterward, he would file the notepad in a correspondence folder. Well, you can imagine how big those folders were. After the co-op was officially my client, I organized the folders into different categories to help me manage the notes and priorities. When Mr. Dewar decided to make one last trip to the co-op to offer his good-byes, he asked me for the correspondence folder and discovered it was not how he liked it organized. So, I had to put the files back the way he wanted before the trip. After Mr. Dewar retired, I organized my client files in a way that worked for me.
Another client was a unique challenge as the manager as he was very demanding and prone to cussing like a sailor. Although I never experienced this, I will never forget when Mr. DeLong said, "Joe, if you feel you cannot work with a particular client at any time, just let me know. We do not have to work with everyone. We can make it without some." Sharing that company value gave me confidence as I began my career as a client engineer.
I remember around 1975, I completed a long-range system study for Mr. DeLong's client, who would become one of my favorites. The study recommended converting a large portion of their system to a higher voltage. When we went to share the economic results of my study, Norman knew the general manager and system engineer were opposed to the idea. After making my pitch, the manager severely criticized me, declaring the conversion to a higher voltage would not happen on his watch. The system engineer also challenged me on several issues. As a young and upcoming engineer, I was devastated. But Norman stood behind me; his steady support encouraged me to continue with the recommendation. Later, I discovered that the manager and the system engineer were retiring soon. The new leadership agreed with my study results and the system's needs. What a learning experience, and who else would you want to have your back except for Norman DeLong!
I successfully earned my EIT and PE license on the first try, by the way. I was assigned new clients, many of whom became a close part of my life. Around 1978, Norman approached me and extended an offer to purchase P&D stock. I was a young married engineer with two small boys and little money to spare. Norman told me that if I needed some help with the purchase, he would help. Buying stock was one of the best decisions I ever made. That small purchase, worth some thousands of dollars, grew years later to hundreds of thousands. Norman's confidence in me significantly contributed to my life and success. You can't ask for a better career than one that offers these opportunities and benefits.
Company and Career Trajectory
My career blossomed into a fulfilling and satisfying life with support from the abovementioned individuals. Finally, my desire and dreams of becoming a professional electrical engineer were a reality. New clients were added, more challenges were offered, and I gladly accepted those challenges. Shortly after receiving my PE license for Georgia in 1976, I earned licenses in six more states. I became more valuable to P&D and was rewarded with promotions to vice president and chief electrical engineer.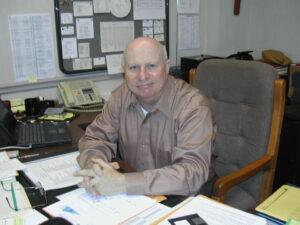 One of the most exciting opportunities at P&D was when we started to get into substation design and construction in the Tennessee Valley electric service area. Wholesale electric (TVA) rates made it economical for distributors, cooperatives, and municipals to build and operate their own substations. P&D began writing specifications and contracts for complete substation construction. These substations started in north Georgia and quickly expanded to new areas outside TVA.
As time progressed, P&D gained recognition nationwide, birthing a new business in electrical testing. The testing business, which initially involved substations, soon advanced into other avenues, including data center commissioning, and is a big part of our business today. Mike Kline and J. W. Porter took the reins to start the testing business. It was their drive and commitment that made it work. Several years later, Richard Hood joined the team bringing additional expertise and new clients to the table. The subsidiary company of Hood Patterson & Dewar was born. What a business did we build!
Digital mapping increased our efficiency and provided clients with new tools for system operations and maintenance. P&D took the lead in developing an economical software mapping system, partnered with other companies to improve the software, and sold the mapping software around 2013.
P&D was also a member of the NRECA System Planning Standards Committee. An invitation-only committee, members shared their talents with cooperatives around the country. In addition, I helped develop a long-range planning guide with other system engineers on the committee, establishing how to perform these studies.
Mildred Dollar and Mary Holtzman, both Drafting Department Heads at different times; Bob Howell, J. B. Franklin, Layne Jordan, Chris Hammond, Lex Strickland, and Chris Stoia, all helped me in my career journey. I share these names here because I want you to understand the importance of people in our lives. We are not independent but interdependent, and as we grow, we become part of each person with whom we work.
I also want to acknowledge the leadership of Mike Kline. Mike was elected president of the company when Norman DeLong stepped down. With Mike's vision and the support of our entire team, P&D has become an enterprise that the P&D family can be proud of. Thank you, Mike.
After almost 38 years, it was time for me to move on to new opportunities of enjoying life and loving my family, including my precious wife, two sons and daughters-in-law, and five super grandsons (no girls, I am sorry to say). So, I retired from P&D in 2010 and started my next adventure. What a ride and what an extraordinary opportunity. They say, "Life is what you make it with those that help you."
What P&D Means to Me
When I think of P&D, four words come to mind – opportunity, mentoring, meaningful jobs, and benefits. Opportunity is working where one can find their place and gravitate to those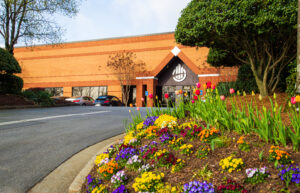 opportunities as they become available. Mentoring is where gifted and knowledgeable people readily share what they know without reservations, hoping to develop a particular person for the task. By meaningful jobs, I mean a place where work is greatly needed by their clients and can be accomplished with pride and satisfaction. And by benefits, I mean a place where one is respected and compensated well for their efforts.
P&D has changed a lot since 1973. When I visit the Norcross office, there are few people I recognize. This is an excellent commentary for a company that is not static but alive and growing to provide the services our clients need. The acronym for "TEAM" is Together Everyone Accomplishes More. This personifies what P&D was in my life and what it will be in the future.
Thanks for listening to this "OLD MAN"!
Love always,
Joseph E. Perry III, PE (Retired)
Former V.P. and Chief Electrical Engineer
Patterson & Dewar Engineers, Inc.