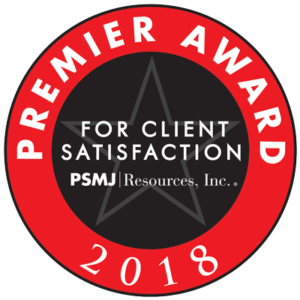 P&D is proud to have been selected for the fourth time as a PSMJ Resources Premier Award for Client Satisfaction winner. The 2018 award recognized 24 engineering and architectural firms that have performed exceptionally well in the areas of client communication, project delivery, and cost-effective solutions.
"These firms have set themselves apart from the competition through creating great experiences and outcomes for their clients," stated PSMJ Resources Founder and CEO Frank A. Stasiowski, FAIA. "As we hear more and more frustration from architects and engineers about downward pressure on fees, delivering a best-in-class client experience is one of the best ways to differentiate your firm."
P&D was selected based on both quality of feedback received and quantity of replies. Winners of the Premier Award received the highest scores on an independent survey designed to gauge performance and exceptional client service.
"This award is especially great since it reflects how our clients think we are doing in terms of satisfying their needs," said President and CEO Mike Kline. "That we have received this award four years in a row is especially meaningful to P&D, since building lasting relationships with our clients is what has kept us going strong for more than 70 years."
###
Patterson & Dewar Engineers, Inc. (P&D) provides engineering, land surveying, and construction management services from our offices in Atlanta, Nashville, Dallas, and Washington D.C.  Established in 1947, P&D specializes in designing and evaluating vital power delivery infrastructures for energy companies, electric utilities, and interconnecting clients. At P&D, we approach each project with an unyielding commitment to excellence and integrity; guided by these principles, we remain a dedicated ally and trusted advisor to the clients we proudly serve.