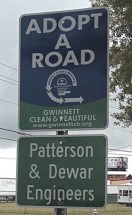 As part of its community outreach initiatives, P&D's Millennial Committee elected to participate in the Adopt-A-Road program. Staff members gathered together one Saturday morning per quarter in order to "beautify" the area along Goshen Springs Road from Center Way to Jimmy Carter Boulevard in Norcross, GA.
The Adopt-A-Road Litter Prevention Initiative, sponsored by Gwinnett Clean & Beautiful and Gwinnett County Department of Transportation, allows citizens to show their pride in Gwinnett by safely reducing the amount of unsightly trash and illegal signage along county roadways. The litter prevention efforts of the Adopt-A-Road program directly benefit the community through litter prevention, civic involvement, and area beautification.
After completing two of the four clean-ups scheduled for this year, P&D received special recognition for the hard work. Thank you to all the volunteers who helped with our previous clean-ups. Our next clean-up set for June, and all are welcome to participate!