P&D has been recognized by PSMJ Resources, Inc. as a 2018 Circle of Excellence firm.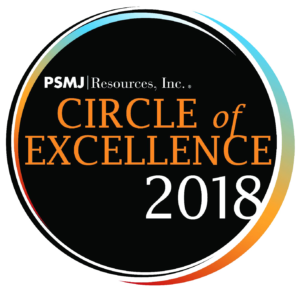 PSMJ's exclusive Circle of Excellence recognizes successfully managed firms based on 13 key performance indicators that demonstrate outstanding achievements in profitability, staff growth, cash flow, productivity, business development, overhead management, and turnover. This award is granted to the top 20% of companies determined by PSMJ's annual A/E Financial Performance Benchmark Survey. It recognizes those firms that are not only good at their practice but also at running their practice as a business.
"Each year, the Circle of Excellence firms come from all corners of the A/E space. This diversity demonstrates that success isn't defined by a specific firm size, location, or market niche," said Frank A. Stasiowski, FAIA, Founder and CEO of PSMJ Resources. "The top-performing firms just think and act differently from the rest of the pack to achieve extraordinary business performance."
Representing the firm during the THRIVE 2018 A/E/C Growth, Profit and Performance Summit awards dinner in San Diego, CA, P&D President Mike Kline remarked,  "our continued focus on employee development, mentoring, work/life balance, and leadership development will ensure the sustainability and future success of our company."
###
Patterson & Dewar Engineers, Inc. (P&D) provides engineering, land surveying, and construction management services from our offices in Atlanta, Nashville, Dallas, and Washington D.C.  Established in 1947, P&D specializes in designing and evaluating vital power delivery infrastructures for energy companies, electric utilities, and interconnecting clients. At P&D, we approach each project with an unyielding commitment to excellence and integrity; guided by these principles, we remain a dedicated ally and trusted advisor to the clients we proudly serve.