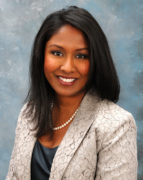 Patterson & Dewar Engineers, Inc. (P&D) is pleased to announce the appointment of Anita Atkinson as vice president of the company's Engineering and Surveying division. As a key member of the company's strategic leadership team, Atkinson also serves on the board of directors.
Atkinson follows in the footsteps of J.B. Franklin who retired after 36 years with the company. "I'm grateful to J.B. for all he has done for P&D and for me personally." Atkinson continues, "He believed in me from the start, and really guided the firm's focus on employee development and sustainability. We all owe him a debt of gratitude, and I certainly have some big shoes to fill."
President and CEO Mike Kline remarks, "Anita's work ethic, team focus, and humility make her the perfect choice for this position. I believe that her natural charisma and leadership will benefit our clients, employees, and company for many years to come."
Atkinson has nearly 20 years of experience in civil, environmental, and structural engineering for electric utility companies. She joined P&D in 2008 as a structural engineer for the transmission line engineering team. In 2012, she was promoted to civil engineering and land surveying department manager. She holds a Bachelor of Science degree in civil engineering from the Georgia Institute of Technology and is a licensed engineer in Alabama, Florida, Georgia, Kentucky, Mississippi, Tennessee, and Texas.
In her new role, Atkinson plans to focus on client relationships, continuity, employee development, and continuous improvement. "P&D's 70-year legacy was built on exemplary service and integrity," said Atkinson. "I feel honored by the opportunity to lead this growing team of extraordinary professionals. Together, we are excited by the challenges we rise to and the people we work with. To put it plainly, we want to wake up in the morning and know that our work matters and that we make a difference."
P&D specializes in designing and evaluating vital power delivery infrastructures for electric utilities. The Engineering and Surveying division comprises substation and transmission engineering, distribution system planning and design, smart grid services, distributed generation engineering and support, systems integration, civil engineering, surveying, and GIS.